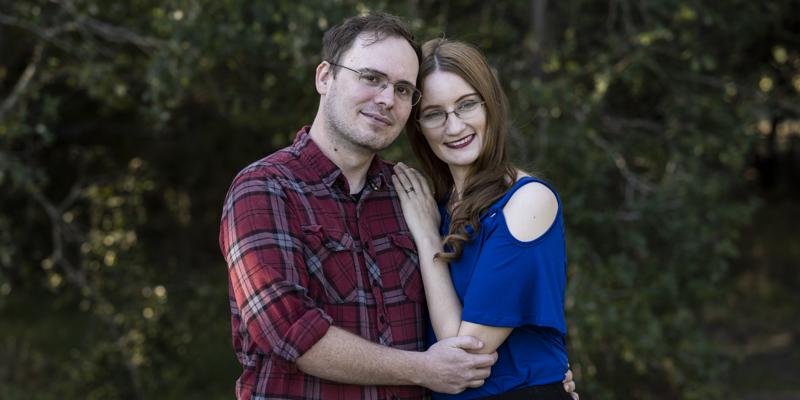 My GFA Story
My wife and I met in 2015, after I left Bible College and started a career as an EMT in Texas. We both were raised in Christian homes, and I've always had a heart for serving others. I left EMS in 2019, just before Covid began, and spent most of the Pandemic unemployed and searching for a new purpose. We learned about GFA through a long-time friend who already worked there, and I began working part time, just looking for a way to pay bills. It wasn't until after I began working that I began to grasp the scope of GFA's work serving the poor and reaching the lost. Matthew 25: 31-40 has always been one of our favorite passages of Scripture, because Christ explains the importance of serving those in need. As we learned more, we felt that God was calling us to full-time service with GFA, and couldn's think of a better way to show our gratitude for His blessing on us than to serve together at GFA's home office.
What I do
I work in the mailroom. This means if someone orders a book, I'm the one packaging the book, printing out the shipping label, and taking it to the post office to be shipped. If letters need to be sent, I put them into envelopes and send them out. I also help send out major packages to Asia and Africa. Kelly is a writer. She takes reports from the field and write articles for the Rejoice! newsletter, web features, and writes notes of thank you and encouragement.
More About Matthew and Kelly
Where we're from
Florida
Where I Serve
Shipping & Receiving
Favorite Bible verse
Micah 6:8
Favorite Field Ministry
Disaster Relief and Compassion Services
Hobbies and Interests
I enjoy hunting, fishing, archery, and cooking. When given the opportunity, I enjoy doing photography, especially with a drone. I also love to just curl up on the couch and read. My wife, Kelly, enjoys writing fiction novels and has published a few books. She also does art and bakes. She loves fencing (sword fighting) and archery, and she likes to go on bike rides with our Dobermans. When she wants to relax, she curls up with our cats. She has a special place in her heart for all animals.